While she has been the face of Prada, Chanel and Hermes and graced covers of high profile fashion magazines (Vogue, Harpers Bazaar, W… to name a few), there was no assurance I'd recognize super model
Angela Lindvall
out of her element.
Not that she isn't stunning, but everyone goes through a certain transformation to become "camera-ready." As a photographer, I'll admit that on occasion I've made the mistake of not recognizing talent that came to sessions, more often than not, "unmade."
Needless to say… embarrassing! I hoped this was not going to happen with Angela as we had set our meeting at the Topanga Canyon Farmers Market.
I caught a glance of Angela, flanked by her two young sons, Sebastian and Dakota, purchasing strawberries from the
McGrath Family Farm
stand. Makeup or not, she was a stunner.
A warm greeting, a quick photo session in the market and we all hopped into one car and began our interview snaking up the Old Topanga road, heading toward Angela's secretive CSA pick-up spot to buy more produce.
As we got closer, an angry Angela spoke of regulatory issues that threaten the livelihood of small-scale organic farmers, in particular this farmer she supports as a member of his CSA.
With lush oaks providing a continuous green canopy, Topanga Canyon set the perfect stage for Angela to talk about a local sustainable food system. She hit a number of topics, including setting up a Topanga Canyon Alliance to support local farmers, to enhance the food micro-economy and ensure healthy food for the local community.
From her experience with the Rockland Farm Alliance in upstate New York, Angela understands the potential in this approach — so successful that the local municipality donated 35 acres for community farms.
"Topanga is an optimal community to get a small farm program going," she noted while detailing her concept of "
The Topanga 7.0 Program
." With such insightful and strong leadership qualities, I'd love to have Angela living in my neighborhood!
Angela's connection to the food we eat is a high priority in her busy, globetrotting life. The disconnect between the lack of awareness of what we put into our bodies, and an obsession with outward appearances concerns her deeply.
Angst about the lack of food ecology compelled her to launch
The Collage Foundation
, a non-profit organization, supporting
Clean by Design
and
The Rockland Farm Alliance
.
Arriving at Angela's dramatic canyon crest home, she went right into action. The day's cornucopia of produce was spread across her kitchen counter like a treasure chest of jewels.
Gazing at the bounty of wondrous food, Angela took a moment to reflect on her own personal transformation, "Everything begins with our internal environment. There's a universal message that we all need to be reminded of — transform ourselves, transform the world." Simple, eloquent, profound.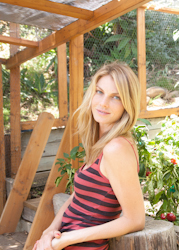 The tour of Angela's nine-acre hillside property was a real treat. The raised bed gardens and orchard clung to the steeply sloping site. Sensitive terracing techniques could convince you that you were in Positano, Italy. Angela said she was inspired by the strong connection Italians have to farming and food — their center of family and community.
The property was full of life. The orchard was nourished by
Ollas
, clay pots buried for drip irrigation, an ancient but efficient technique. She used a three-tired compost system and sported a spiral herb garden surrounding the trampoline where she and her sons jump and play. "The sounds invigorate the herbs… they're surrounded by laughter."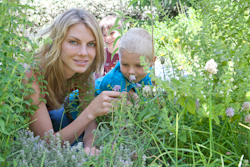 While touring, I began to photograph Angela and we talked about commitment to a healthy inner environment and an integrated mind, body and spirit. The camera loves Angela… it was hard for me to put it down. Her physical awareness, honed as a professional, is as acute as her instinct to tend to the earth. In her, these attributes are in harmony, illustrating a real command of her persona — truly a rarity.
Recognizing the power of media, Angela has integrated her career with building an awareness of stewardship of the planet. A proponent of exponential change, she has teamed with other luminaries that strive to make a global impact on environmental improvement. Her collaboration with jewelry designer John Hardy for a line of recycled silver jewelry "ANgela by John Hardy," is all about a luxury brand making sustainable choices. "Agriculture is metaphorical for life and business," she states. "You prepare the soil, plant your seed and ultimately reap the benefits" Watch a
video
in her own words.
Angela's core belief is that food is the basis for a reverence of life. Sitting around the dinner table each night, Angela and her sons acknowledge the power on their plates — a blessing of life harvested and the sustenance the food will provide.
Beyond her dinner table, Angela's voice expands to influence global and local issues in an attempt to shape the world in which we live through self-sustaining and ecological practices. With her family, Angela's living it and doing it right.
Julie Brothers
Lee Glenn
View Full Article Here